YOU WERE BORN WITH A DIVINE SPARK.
TRAUMA, PAINFUL EXPERIENCES, SOCIAL CONDITIONING, GENERATIONAL PATTERNS, AND THE PROGRAMMING OF THE PATRIARCHY MAY HAVE DIMMED THAT SPARK, BUT IT CAN NEVER BE EXTINGUISHED.
THAT SPARK IS THE GODDESS, YOUR DIVINE FEMININE ESSENCE. SHE HAS WAITED PATIENTLY FOR THE RIGHT TIME TO BE REVEALED, AND HER SOFT, GENTLE FLAME TO BE FANNED INTO A POWERFUL INFERNO OF HER FULLEST EXPRESSION — AS YOU.
THE TIME IS NOW. THIS IS YOUR INVITATION.
---
YOUR GODDESS IS CALLING YOU IF:
There is a stirring within you for more, though you may not yet know what "more" is
You feel dissatisfied, even though you "should" be happy
You believe that you are somehow broken, flawed or not enough
A part of you that has been shut down, is aching to be set free
You've done what you're "supposed to do," yet you feel empty
You are ready to be seen, heard and celebrated
You wish to transform your pain into power
You want to own your place on the planet
You are ready to drop what feels like a charade and let your authentic self be known
You long to create your life on your terms and transcend the rules, restrictions and expectations placed upon you by others
---
Join us in Chicago March 10 – 13
Be a part of an exclusive and intimate group of soul-centered women for a pilgrimage within to liberate your Inner Goddess in the presence of actual Goddesses.
This will be a one-of-a-kind experience for profound healing and transformation through self-inquiry and self-love. Our playground and sanctuary will be ALTAR, a beautiful, new social and spiritual center for women in Chicago where the Goddesses In Residence art exhibit is housed until the spring equinox in March. Click HERE to view a video of the exhibit's grand opening at ALTAR.
Legendary artist Lydia Ruyle began making her exquisite Goddess banners honoring the Divine Feminine from spiritual traditions around the world at age sixty, and they have flown at sacred sites and events all over the world including Machu Picchu and Glastonbury, yet never for more than a few days. The powerful energetic forcefield created by the Goddesses over their extended stay at ALTAR is why we chose this very special space for you to reveal your Inner Goddess.
She is the unique expression of your pure, unlimited, divine nature; free from all judgment, criticism, and limiting beliefs. She transcends your trauma and drama. She may feel separate from you initially, mysterious yet familiar, but as you cultivate your relationship with Her during our time together, She becomes you, you become Her. You merge together as a single force and source of light, power and purpose for your life and the world.
---
YOU WILL EMERGE FROM YOUR RETREAT FEELING:
Lighter, having let go of emotional baggage and energy that have weighed you down and kept you from your fullest expression
Nourished at the level of your body, mind and spirit
Connected to and supported by a force greater than yourself
Uplifted and cared for by your fellow sister goddesses
Accepted, witnessed and honored
Clear, inspired and ready to step into a new, more loving relationship with yourself
Aligned and empowered to step forward
Appreciation for yourself and your life's unique path
---
The Yummy Details
Exclusive, private access to the Goddesses In Residence exhibit
4 days of magical moments, energy balancing, self-inquiry, and soul enriching experiences to awaken your Inner Goddess
3 breakfasts/2 lunches/2 dinners/nourishing snacks throughout the day
Daily morning and evening yoga, meditation and energy work
Your own unique primordial sound mantra and introductory meditation training
Alpha-brainwave guided journey to meet your Inner Goddess
Chakra Balancing Yoga
SoulCollage® experience with ALTAR founder and Consciousness Concierge, Kathy Bresler
A soul playdate excursion
Goddess Gifts + Goodies
Price does not include: airfare, accommodations, or alcohol.
INVESTMENT: $1549
* ALTAR members receive a membership benefit of 15% off of the registration price until March 1st. ALTAR will provide you with the promo code.
Space is limited.
---
ACTIVITIES & AGENDA*
Thursday, March 10
2pm — 8pm
Arrive | Envision
Welcome ritual
Meet the goddesses and set intentions
Yoga, meditation + energy exercises
Catered group dinner at ALTAR
Screening of HERSTORY,
the documentary of legendary artist Lydia Ruyle
and her Goddess banners
Friday, March 11
8am — 5pm
Expose | Release | Energize
Chakra balancing yoga and kriya,
meditation + energy exercises
Envision your Goddess-centered life
Excavate, honor and release with EFT,
guided processes, chakra and body work
Meet your Inner Goddess alpha-wave journey
Breathing in the Goddess
Evening restorative yoga + meditation
Journal and recapitulation
Night-time Goddess ritual
Saturday, March 12
8am — 5pm | 7pm dinner
Deepen | Embody | Play
Morning sensual and divine feminine yoga + energy exercises
Receive your unique Primordial Sound Mantra
PSM Vipassana meditation
SoulCollage
Honoring the temple of your goddess: body love ritual
Body wisdom energy practice
Soul playdate excursion
Evening yoga with core connection + meditation
Embody your Inner Goddess dinner
Sunday, March 13
8am—12pm
Honor | Initiate | Celebrate
Morning goddess flow, meditation + energy exercises
Spirit journaling
Goddess initiation ceremony
Weaving in our Goddess
Closing circle and farewell ritual
* subject to change
---
ACCOMMODATIONS
AIRBNB
We have reserved a 5 bed 3.5 bath house for those of you traveling to Chicago. SEE IT HERE. This clean, updated home is in Logan Square, a safe neighborhood, and approximately a 10-minute walk to ALTAR, where we will be hosting the retreat.
If you are interested in reserving one of the remaining 5 beds, please select that on the registration form and you will be contacted. Monica will be staying at the Airbnb as well.
Pricing for the Airbnb for three nights, 3/10 – 3/13, is as follows:
Master Queen with private bath = $830 or
if traveling with a friend, Shared Queen Bed = $415 pp
Queen in private room (we have 2 rooms available)= $640 or if traveling with a friend, Shared Queen Bed = $320 pp
Twin in shared room (2 twin beds in one room) = $420
Prefer to arrive the night before the retreat (3/9)?
Please add an additional $50 to the rates above.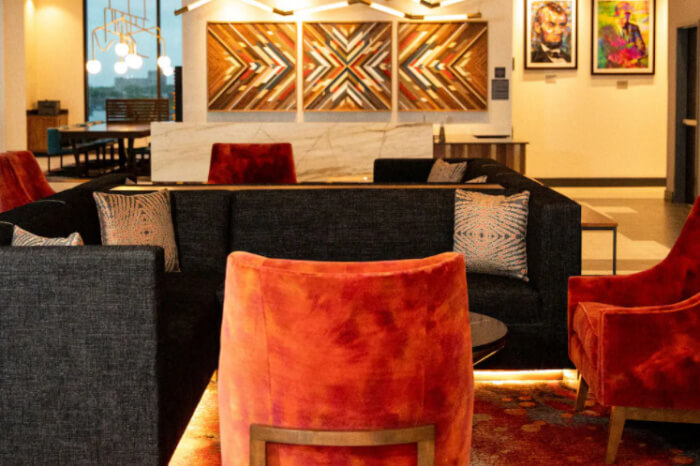 HOTELS
As of early January, these nearby hotels are offering the following rates for 3/10 – 3/13, exclusive of taxes and fees. Rates are subject to change.
The Hotel at Midtown Tennis
$302/night
1.3 miles to ALTAR
30-minute walk/10-minute taxi
Robey Hotel
$182/night
1 mile to ALTAR
20-minute walk/5-minute taxi
Hyatt Place Wicker Park
$169/night
1.7 miles to ALTAR
35-minute walk/10-minute taxi
---
OUR PLAYGROUND – ALTAR
Nestled in the Logan Square neighborhood of Chicago, ALTAR will be our playground and sanctuary for four soulful days together. With a warm, bright, airy space for our yoga and movement sessions, as well as cozy nooks and swings in which to curl up and journal, this exquisite space is ideal for spiritual exploration and healing. Click HERE to learn more about ALTAR.
---
MEET YOUR GODDESS GUIDES
---
Goddess Within Retreat – Chicago, IL – March 10th – 13th, 2022