Goddess Within Retreat
Costa Rica: March 9 – 16, 2024
Connect, grow and nourish yourself in mind, body and spirit, with other spiritual, soul-centered women.
WITHIN YOUR HEART IS A LONGING,
A BURNING DESIRE TO BE WHO YOU CAME HERE TO BE —
AN UNAPOLOGETIC, FIERCELY LOVING,
CONFIDENT, SENSUAL, CREATIVE CREATURE — A GODDESS.
YET IN MOST OF US, OUR GODDESS-NESS HAS BEEN DROWNED OUT
BY THE NEEDS AND DEMANDS OF OTHERS, HARSH SELF-CRITICISM,
FEAR, SELF-DOUBT, ANXIETY, AND SADLY, THE LIST GOES ON…UNTIL NOW.

Join us on a journey to uncover and liberate your Goddess Within.
Over the course of seven luscious days with a small group of other spiritual, soul-centered women, you will experience a metamorphosis, connecting with yourself in a completely new way in mind, body, and spirit.
2023 Retreat Goddess Testimonials

"The Goddess retreat was absolutely amazing. I truly did not know what to expect when going, but it exceeded anything I could have ever planned alone. Meeting such strong, sweet, and encouraging women, while also practicing meditation and yoga will be an experience I never forget. The different excursions on top of being surrounded by the best people and doing the best practices, just made the trip unreal."
---
"Very different than any retreat I have been on. Mind-blowing, magical, emotional and mystical to see how women can support each other. It was an experience I will never forget."
---
"It was the most de-stressed I've ever been in my entire life."

You are invited to:
Relax your mind
Break free from the daily demands of your life and to-do list to immerse yourself in the beauty of the Costa Rican jungle where the sounds of howler monkeys, exotic birds and sprawling vistas of the Pacific Ocean will immediately elicit a looooong exhale and cause your shoulders to drop. Pura Vida at its best!
Nourish your body
Savor fresh, healthy and delicious meals prepared with true culinary artistry, made with local, mostly organic ingredients some of which are grown on the property.
Daily group movement including breathwork, yoga, Pilates, and energy exercises, will help you to further relax and create space in areas that may be chronically tight, while increasing strength and flexibility.
Honor your spirit
Varied styles of meditation, reflection and journaling will provide space and time for you to "tune in" and begin to trust your own inner stirrings and wisdom.

We have created a sacred energetic container for this experience. The energy of the retreat will be nourishing, fun, beautiful, healing, harmonious, light-filled, relaxing, inspiring, pampering, revitalizing, expansive, holistic, fulfilling and safe. You will be honored and supported in this container with self-inquiry, discovery, ritual and ceremony. You will return from your retreat with clarity, feeling lighter, uplifted, accepted, witnessed, honored, aligned and empowered to step forward on your own unique path.

A Once-in-a-lifetime experience with "The Girls"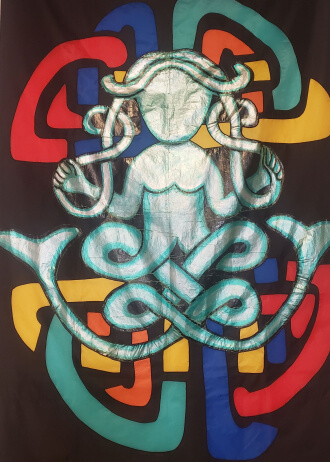 What truly makes this a once-in-a-lifetime experience is that our already breathtakingly beautiful space will be powerfully anchored by icons of the Goddess from spiritual traditions all over the world. These stunning, original works of art, created by legendary artist Lydia Ruyle to honor the divine feminine, have flown at sacred sites and events all over the world including Machu Picchu and Glastonbury, yet never for more than a few days.
The powerful sacred energetic vortex these banners generate is magical and makes it easier to shed and shift stagnation and fear and allow the wild, bold, and gorgeous expression of your unique goddess within to come out.
We are blessed to have them as special guests. The pieces are fondly referred to as "The Girls" by Lydia's' beloved niece and The Girls' guardian, Katie Hoffner. Katie will be onsite as a special presenter sharing stories and wisdom of these powerful archetypes.

Your All Inclusive Seven-Night Retreat Gives You:
Seven dreamy nights in a gorgeous, newly renovated luxury jungle villa from March 9—March 16, 2024
Two retreat guides with special guests
Daily Housekeeping
Gourmet breakfast and dinner each day
Garden-to-table Cooking Demonstration including lunch
Chartered group transportation to/from San Jose airport (The resort is approximately three hours from the airport.)
Daily yoga and breathwork
Bioenergetic healing work and Reiki
Alpha-brainwave guided journey to meet your Inner Goddess
Daily guided meditation and spirit journaling
Pilates and core strengthening
Receipt of your own unique Primordial Sound Mantra
Cultural Excursion: Cacao Tour at local plantation
Nature Excursions: Hike to local waterfall and an outing to famous Whales Tail (beach)
Adventure Excursion: Full day adventure to Corcovado National Park
From Our Hearts to Theirs Community Experience: Group service project within the local community
Outing to local town for shopping and exploring
Sunset beach bonfire
Aromatherapy and Intuitive Card Readings
Free time to get a massage, read a book, go on an adventure, sit and chill, swim and nap
Exclusive Goddess gifts, goodies, rituals & ceremony

"It was more than I expected. It was great connecting with other people."
OUR PLAYGROUND – VISTA CELESTIAL
Nestled in the rainforest with expansive ocean views, Vista Celestial feels like a haven and a cocoon. Imagine waking up serenaded by the hypnotic sounds of the jungle, feeling the dewy morning air on your skin as you practice yoga on the jungle platform, then enjoy a gourmet breakfast, sipping the freshest Costa Rican coffee while overlooking the Pacific Ocean…These sensory delights are priceless, and words cannot begin to capture the pure magic of what happens on a Goddess Within retreat.
The Fine Print
The property offers five stunning, newly renovated ocean-facing jungle villas, each with a private pool, hot tub and outdoor shower. • Each villa is double occupancy and includes a King and a Queen bed.
If you and two of your friends or family want to share this experience, two can sleep in the King or Queen, or the twin-sized daybed sofa may be utilized as a third bed. The price for a triple would be $3,888 per person in your group, and all three names will need to be provided when you book your space, though each may pay separately.
Alcohol is NOT included and may be purchased separately.
Tips for tour guides and drivers, Vista Celestial staff, and any costs for your self-selected activities are not included.
Airfare is not included.
Are you ready to experience the magic of a transformative retreat at a luxurious resort with all your needs and desires cared for? Are you ready to fill your your soul cup with this once in a lifetime experience? Are you ready to journey within to liberate and embody your Inner Goddess in the presence of ACTUAL Goddesses? YES YOU ARE! We can't wait to celebrate YOU with YOU!

---
Meet your Goddess Guides
Monica and Shweta are your retreat guides, supporting you as you BREATHE into, CONNECT with and EMBODY the divine sacred feminine GODDESS WITHIN. The presence of "The Girls" and Katie's storytelling will further IGNITE, INSPIRE and EMPOWER you.

Your I-Am-So-Worth-It Investment
$4,444 luxury villa, double occupancy
50% of balance due by 9/4/2023 – Final payment due by 12/4/2023
$444 Non-Refundable Deposit Required to Secure Your Space
Are you ready for a once in a lifetime retreat experience – for a pilgrimage within to liberate and embody my Inner Goddess in the presence of actual Goddesses?
Limited Early Commitment Bonus when you register by August 8, 2024! This bonus is 1:1 time via zoom or in person with both Monica and Shweta independently prior to retreat. You will receive bio energetic healing and a customized training session from Monica (a value of $450)!!!!

Frequently asked Questions:
What is the weather like?
If you're looking for sunshine, then March is the best time of the year to visit Costa Rica. This is the middle of the dry season. During this month you can experience the best weather on the Pacific coast, and make the most of the endless sunny days.The average temperature in Uvita in March for a typical day ranges from a high of 86°F to a low of 73°F.
What do I pack?
Pack lightly. We will send you a suggested pack list closer to retreat but think relaxed, flowy, easy, yoga, hiking and pool clothing.
How do I get to this slice of heaven on earth?
We will have a private shuttle transport from San Jose Airport to take us to Vista Celestial. Therefore it is critical your flight arrives prior to 1 pm on March 9th. The retreat begins on our shuttle journey to Vista Celestial. A few stops are planned en route to the resort so we may explore a local shop, purchase snacks or sundries and see some native wildlife.
Do I have to participate in all of the group activities?
No. We have found that everyone usually chooses to participate in everything and are grateful they did. We encourage participation so you may experience moments of growth, ah-ha's and appreciate the power of the collective experience.
What does "self-selected activities" mean?
There will be a few segments of unstructured time when you may choose to do what your soul craves… perhaps it is a massage…massages on the yoga platform are divine! Maybe you're seeking a rush of adrenaline and want to zipline, or head to the beach for some paddleboarding. You may feel called to dive deeper inward and receive a sound healing and participate in a cacao ceremony. You choose what feels most aligned and exciting for you!
What will each day be like?
Each day will be unique and yes, magical. Most mornings will begin with a practice of yoga or energy medicine, followed by one of the included excursions and time to reflect and relax. Some days will have an afternoon session of Pilates or yoga, and on all days we will enjoy incredible alfresco breakfasts and dinners together.
Can I buy snacks or lunch on the days it isn't provided?
Yes! Vista Celestial has lunch, yummy snacks and alcohol available. We will have lunch provided for two of the days and have found that most are not hungry for lunch after the fabulous full breakfast that is served. You will also have the opportunity to buy your preferred snacks en route to Vista Celestial and in town if you desire.
I have food allergies and intolerances, can you accommodate me?
Yes! Vista Celestial is incredibly accommodating and extremely talented in the kitchen. We have made vegan and gluten-free requests and the food was so delicious, even the omnivores ate it! Just let us know about your dietary needs and preferences when you complete your registration form and you will be wonderfully cared for.
Do I have to get travel insurance?
Retreat payments are non-refundable for cancellations made 94 days or less prior to check in, which is December 6, 2023. We highly recommend purchasing travel insurance to protect the investment you have made in your trip. Travel insurance is typically very affordable and covers for flight cancellations or changes, medical issues, emergencies, and more. You can even purchase "cancel for any reason" travel insurance. There are many options for travel insurance. Feel free to contact Monica @ 208 866 6275 if you would like a recommendation on who to contact.
I still have an unanswered question. How do I get in touch?
Please email Monica at monica[at]getfitretreats[dot]com or Shweta at shweta[at]shwetashyamani[dot]com.

---
The Goddess Within Retreat – Costa Rica – March 2024