Experience the Power of Retreat

Harmony of mind, body and spirit is the pathway to health and happiness. But to reach harmony, sometimes one must retreat.
retreat (ri treet') v. to engage in and celebrate a transforming experience
GetFit Retreats designs and delivers customized mind, body, spirit and soul fitness retreats for individuals, groups and businesses. Offering yoga, pilates, energy healing, personal training, coaching, guided meditation, Reiki and much more, GetFit Retreats is a powerful and inspiring resource for anyone seeking well-being, adventure, balance, soul shifting and spirit lifting relaxation.
We believe that in order to GET FIT, you need to:
• Grow beyond your personally imposed boundaries
• Enjoy being you and embrace the present moment
• Trust and grow the power of your intuition
• Feel and connect to the well-being within
• Inspire your inner child and explore the unknown
• Take the time to focus on fitness of body, mind, spirit and soul.
"We take pride in creating heart centered, fun filled and spirit freeing experiences. We see the potential and beauty in every person. As a retreat facilitator, adventure guide, coach, yoga teacher or personal trainer GetFit Retreats specializes in helping our retreatants tap into their potential and realize their unique beautiful self"
- Monica McMahon, founder of GetFit Retreats
An important part of our business philosophy is giving back to the community. We donate a percentage of every retreat to a designated registered 501(c) non-profit organization. Please feel free to share your favorite non-profit organizations with us as we are always looking for organizations to support.
Who We Are
GetFit Retreats is proud to collaborate with heart-centered and pure intentioned talent. From well-being coaches and yoga instructors to massage therapists and spiritual musicians, GetFit Retreats has built, and continues to build, a team that can guide you or your group to self-acceptance and self-discovery.
The external world is a reflection of the inner world. To change the world we must begin with ourselves, with the flowering of the heart. - Sri Bhagavan
Monica McMahon - Owner, founder, trainer, facilitator and well being coach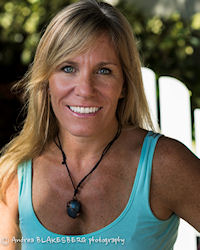 Monica graduated from the University of California, Berkeley with a Psychology degree. Prior to beginning her mind body spirit in harmony journey, she enjoyed a career in the corporate world as a Human Resources Manager at PepsiCo and as an Organizational Effectiveness consultant to numerous Fortune 500 companies. She specialized in interpersonal communications, leadership training, team building and personality style workshops.
Monica discovered Yoga after the birth of her second son in 1998, is recognized by Yoga Alliance as an ERYT200 and is also a Reiki Master. In addition to teaching yoga, Monica is an ACE personal trainer and holds certifications in Thai-Yoga Stretch, Pilates Mat, Pilates Reformer, TRX Suspension Training, Spinning, Body Flow and PowerPlate. She creates eclectic and unique training programs for her clients as well as fitness fusion classes for Mind Body Fitness. Her passion for bringing a "zen component" into the programs, workshops and retreats adds a depth that defines her style.
• Monica McMahon
• Nina Pechonis
• Michelle Tamblyn
• Lindsay Tencich
• Donna Hayberger
REINVENTING THE RETREAT EXPERIENCE